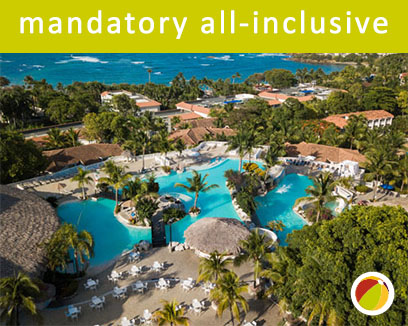 ALL INCLUSIVE RESORT
Please call 1-800-210-5500 to make your reservation at this all-inclusive resort.
***An all-inclusive vacation includes your stay, unlimited food and drinks for an additional fee per person per day. With this mandatory all-inclusive resort, you are required to pay an additional per person per day fee to stay at the resort.***
Lifestyle Holidays Hotels and Resorts in Puerto Plata provides the ultimate Dominican Republic destination. Stroll along miles of sparkling gold sand beaches and soak up the sunshine while enjoying the energizing ocean breezes. Our welcoming resort features rooms, suites, and villas in a variety of sizes to offer plenty of room for families, couples, or groups. All of our luxurious accommodations provide guests with a peaceful, indulgent retreat showcasing incredible ocean or mountain views and offering state-of-the-art amenities including fully-equipped kitchens, chic contemporary design, and private and/or resort pools. Enjoy gourmet restaurants, exciting entertainment, upscale services, and much more when you vacation with us!